Experts in PCLaw Bookkeeping Solutions
Legal firms in Ontario and Michigan have very specialized accounting needs. PCLaw was created to fulfill those needs. Taron Bookkeeping and Consulting is certified in the set-up, use and training of this LexisNexis software. PCLaw covers all the accounting needs of both individual legal practitioners and law firms.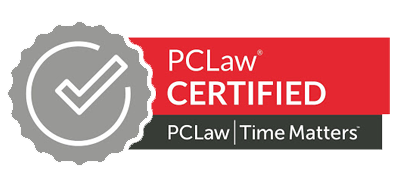 The Business of Practicing Law
Your law practice is a business just like any other. You have revenue, expenses, taxes and much more. PCLaw is a complete accounting software package that allows you to run your practice like a successful business. Keep track of client accounts, billing, payroll, profits, and generate financial reports. Manage your firm's finances with less time spent on billing and more time devoted to your clients.
Trust Account Management
PCLaw gives you all the tools you need to manage your trust accounts. You can easily monitor trust account activity and keep everyone in compliance with trust account regulations. Prevent abuse of trust accounts and maintain accurate records of transactions and transfers.
Client and Contact Information
As a legal professional, you come into contact with many people every day, both clients and professional peers. That requires a lot of contact information that needs to be kept current and easily accessible. PCLaw gives you a way to manage all that contact information with mobile accessibility so that you have what you need when you're not in the office.
Case Management
No one can remember every detail of a case and every individual involved. PCLaw allows you to organize all the details pertaining to a case. Manage deadlines, documents, contact information, notes, billing and much more.
PCLaw Training and Support
Taron Bookkeeping and Consulting is certified to set-up and train you and your staff for the use of this LexisNexis software. You will receive onsite training for individuals or small groups. We will also provide full support in order to keep your office functioning smoothly and optimally.
Ongoing PCLaw Accounting Services
Once your PClaw accounting and bookkeeping system is in place, Taron Bookkeeping will provide accounting services on a weekly, monthly or annual basis. Our managed accounting services are tailored to fit your needs so that you will never be without the assistance of a dedicated accountant.
Visit LexisNexis for more information  |  LexisNexis Support Center
Service Area – We have clients throughout the Windsor, London, Toronto Ontario and Michigan regions as well as other locations throughout Canada and the U.S.
Need assistance? Start with an initial Business Consultation meeting to learn how we can help.  Call us at (519) 977-4459 or send us a short message.